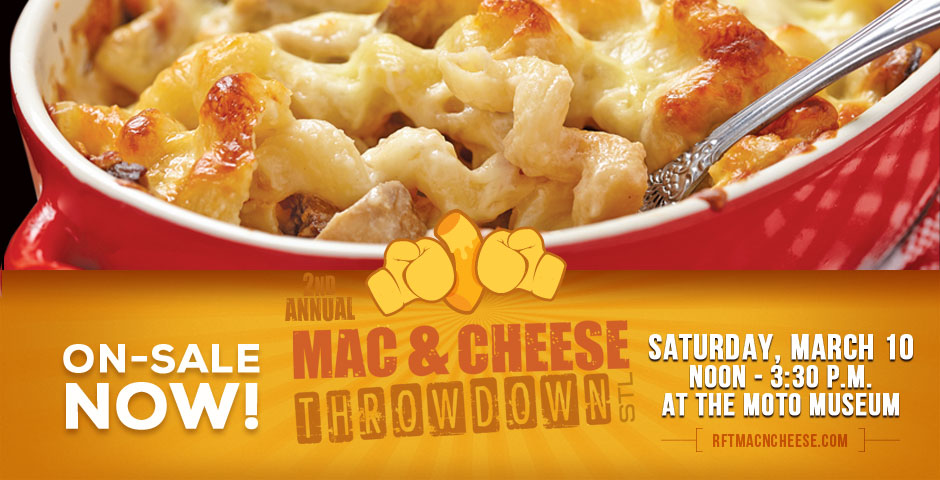 Riverfront Times Presents
Mac & Cheese Throwdown STL // 15+ restaurants // Craft Beer // Cocktails // People's Choice Award
Sat, Mar 10, 2018 from 12pm - 3:30pm
Tickets for the 2nd Annual RFT Mac & Cheese Throwdown STL are officially SOLD OUT!
SOLD OUT!!!
St. Louis, the gloves are off as some of the city's most talened chefs go head-to-head in a MELTY-CHEESY-SMACKDOWN of epic proportions! YOU decide who will be named the MAC & CHEESE CHAMPION of Greater St. Louis. Can Beast Craft BBQ defend its title?!
Join us for the 2nd Annual Mac & Cheese Throwdown STL and get your taste on. With your General Admission ticket you can make your way through each restaurant enjoying mac & cheese samples and craft cocktails and beer from our sponsors! This event SOLD OUT in its first year so we're expanding it to the entire MOTO Museum and Triumph Grill.
And at the end of your exploration, help choose the People's Choice Award!
Get your tickets today to the only Mac & Cheese event in greater St. Louis!!
Tickets $45 in advance and $55 at the door. For more information, visit RFTMacNCheese.com.