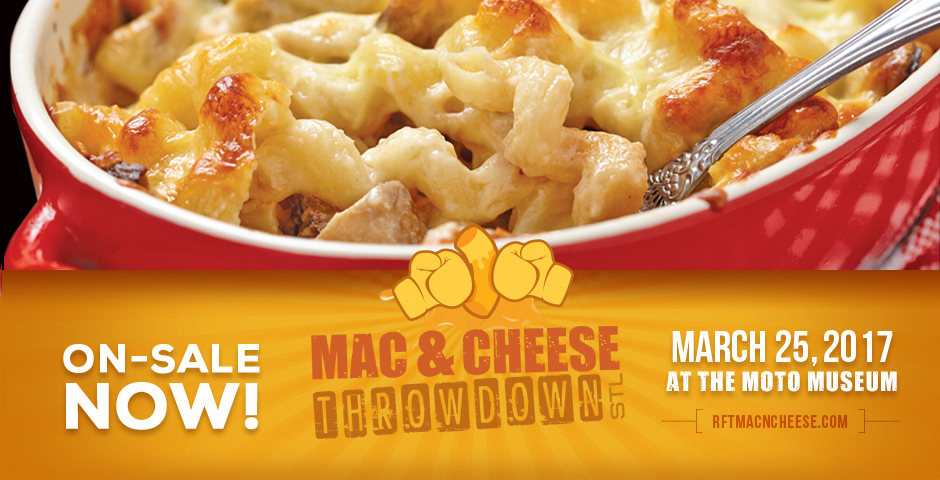 RFT presents
Mac & Cheese Throwdown STL // 15+ restaurants // Craft Beer // Cocktails // People's Choice Award
Sat, Mar 25, 2017 from 12pm - 3:30pm
NEW ANNOUNCEMENT: RFT Mac & Cheese Throwdown STL will have an OPEN BAR plus the NCAA games on TV!! All included with the price of your ticket.
St. Louis, the gloves are on as some of the city's most talented chefs go head-to-head in a MELTY-CHEESY-SMACKDOWN of epic proportions! YOU decide who will be named the MAC & CHEESE CHAMPION of Greater St. Louis.
Macaroni and cheese is cuisine's common denominator. Babies just starting on finger foods love it, many a college student and broke twentysomething has sustained life by eating the perfectly matched duo exclusively. The dish is simple and hard to screw up for the kitchen-challenged; with a bit of cheesy naughtiness, the all-in-a-box powdered-cheese varieties taste fine. And now we find it in some of the finest restaurants in the cities with fresh twists on the original including lobster, truffles, pork belly, cauliflower and much more.
Join us for the inaugural Mac & Cheese Throwdown STL and get your taste on. With your General Admission ticket you can make your way through each restaurant enjoying mac & cheese samples and Open Bar.
And at the end of your exploration, help choose the People's Choice Award!
Tickets $40 in advance and $55 at the door.