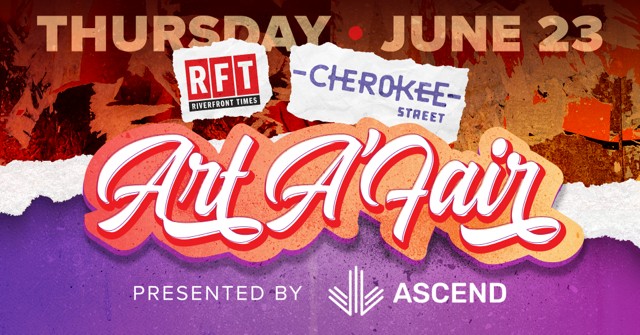 RFT Art A'Fair - A Night Full of Local Live Art // Music // Dance Performances // Cocktails & More
Thu, Jun 23 from 7pm - 11pm
Riverfront Times in conjunction with the Cherokee Street Community Improvement District (CID,) is excited to bring you Art A'Fair – a celebration and spotlight of the vibrant art scene in St. Louis!
Guests of Art A'Fair will get to experience live art in myriad forms including dance performances, live paintings, fashion shows, live body art, live music, and so much more - all from local artists. The event will be held on Cherokee Street, which is home to many local artists today. Tickets will include a champagne welcome and 2 complimentary drinks sponsored by Ketel One Botanicals, small bites, live art and entertainment, plus an inside look at the work of emerging artists who will be the recipients of the 2022 ChangeMaker Awards. These artists will be profiled in the RFT on June 22. Early bird online tickets ($20) will be on sale through June 22, but tickets will be available at the door for $25.
THE ENTERTAINMENT
Art A'Fair's entertainment lineup featuring local acts will engage guests with artists including live body painting by Jessica Dana & Davide Weaver, live visual art by Art Dimensions, Chris & Rebecca Sabatino, fire performance by Ignited Arts, live music by Alexis Tucci, Mammoth Piano, Umami, Justin Ra, Dubb Nubb, The Knuckles, DJ limewire.prime and Stllegend, live video projection art by Blake Butler and Chizmo.tv, exhibit split my sides feautring Lola Ayisha Ogbara & Amina Ross, and many, many more to be announced! Hosted by emcee Maxi Glamour.
THE VENUES
Guests will have exclusive access to several Cherokee Street venues hosting live art entertainment including The Golden Record, Impossible Sensing, Earthbound Beer, Art Monster, The Luminary, and more!