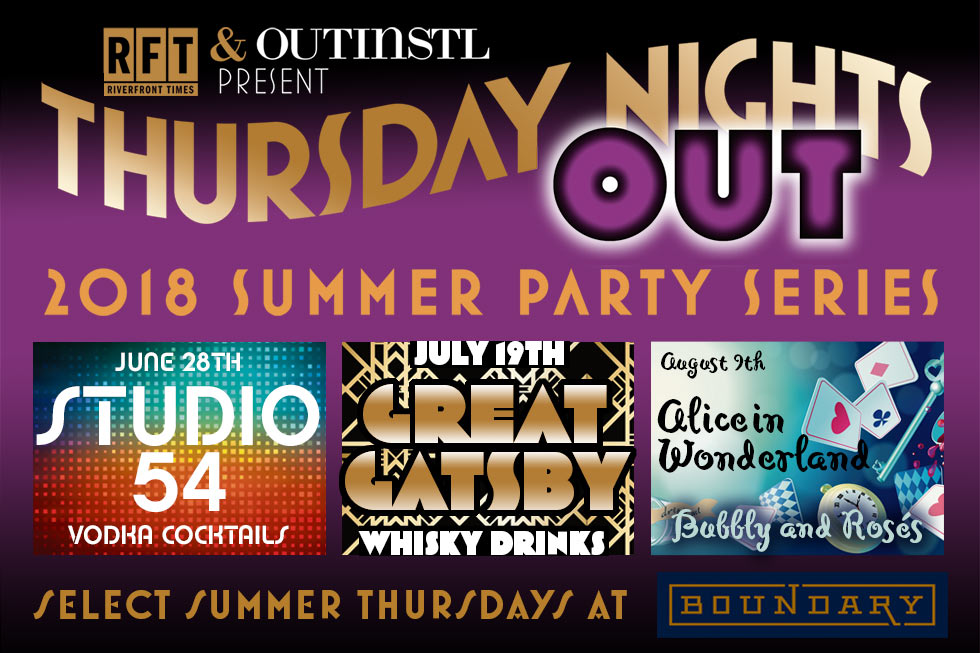 Riverfront Times & Out in STL
Thursday Nights Out: Alice in Wonderland Night


Featuring Rose & Bubbly

Early Bird: Alice in Wonderland Night

more info

includes entry into Alice in Wonderland Night at Boundary on Thursday, August 9, 2018, light appetizers and 6 drink tickets. All sales final. No refunds will be granted. Must be 21 years or older.

Join Riverfront Times and Out in STL for Thursday Nights OUT the second Thursday in June, July and August at Boundary. In June, pull out your bell bottoms, jewelry and platform shoes for Studio 54 night featuring an array of vodka cocktails. In July, we go back to the 1920's with rip-roaring music, glitter and glam with our Great Gatsby night featuring fun and sophisticated whiskey craft cocktails. In August, we visit the whimsical fantasy land of Alice in Wonderland popping bottles of bubbly and sipping Rose.

For more information, visit ThursdayNightsOut.com.